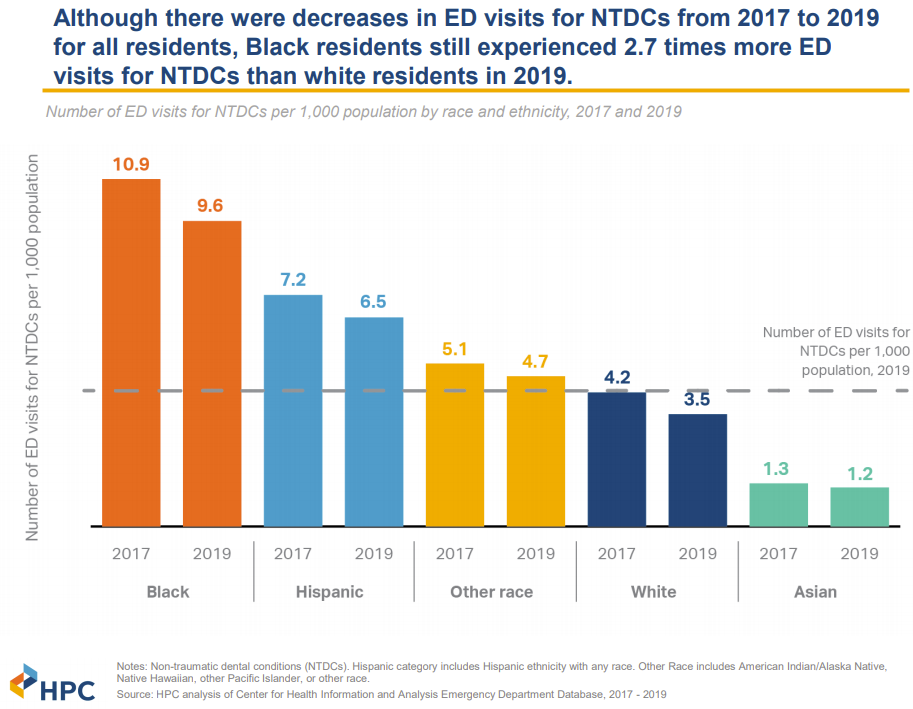 HPC endorses actions to tackle racial & income disparities in dental health
At a board conference on Wednesday, the Massachusetts Health Plan Commission reviewed recommendations to tackle stark race and revenue disparities in dental-associated emergency room visits demonstrated in a report by the Center for Health Facts and Examination.
HPC advised Massachusetts authorize quite a few policies to deal with these disparities, including mid-level dental therapists, referral plans connecting emergency division guests to dental vendors, and teledentistry programs.
HPC involved investigate exhibiting unexpected emergency department visits for oral health issues fluctuate by race and ethnicity, age, revenue, area, and coverage payer type, suggesting disparities in access to preventative treatment and treatment.
Of all dental-connected crisis office visits in Massachusetts, 63% were being from Black or Hispanic/Latinx individuals in 2019, with Black residents going through 2.7 moments much more unexpected emergency division visits than white inhabitants.
Crisis department visits were being also stratified by cash flow, as inhabitants from Massachusetts' two lowest-money group quintiles produced up 65% of all visits linked to oral health.
Patients attributed to Boston Medical Centre providers experienced 70% a lot more emergency office visits and 145 percent a lot more avoidable visits than people attributed to vendors affiliated with Atrius or South Shore Health, claimed a different 2019 report by HPC.
HPC pointed out the ongoing challenge of accessible and cost-effective oral healthcare designed apparent by these figures.
"When individuals deficiency access to oral health care, they may perhaps turn to the crisis section for treatment that could have been prevented or treated in a dental business," HPC defined in its board conference notes.
A significant variety of unexpected emergency office visits in Massachusetts are for preventable dental health troubles, according to the HPC. Most visits end result in soreness and symptom management, rather than solutions like extraction or root canals, which are supplied in a dental office.